What is Iraqi Bitumen?
Iraqi bitumen which we call it positive spot test bitumen attained less than 2% of the world's bitumen export market in 2019.
currently, it is seeking a higher position to expand Iraq's export portion.
In 2020, Iraq exported more than 180,000 tons of  bitumen penetration grade 60/70 while 80/100 and VG 30 held less than 20,000 tons of the export.
Iraqi bitumen cargoes arrive at Jebel Ali port from various origins, such as Um Qasr and Basra.
Only three refineries, located in Erbil, Sulaymaniyah and Basra, have the required technology to produce various grades of Iraqi bitumen, although many refineries claim to have the best quality.
Indeed, most of these refineries use Vacuum Residue (VR) to produce the bitumen.
Vacuum Residue is the remnant of an oil distillation tower, solid material with a Flash Point above 300 degrees.
VR cannot be a suitable alternative for bitumen, and it has caused huge losses to importers.
These refineries can only produce bitumen grade 60/70 because of the penetration of Vacuum Residue that is between 45-70.
It is not only about the grade, but also the SPOT Test. They are compelled to produce positive Spot Test bitumen with the ductility of above 100 cm, due to the high elastic VR. 
You can visit the page bitumen price today, to get the exact price of positive spot test bitumen.
Iraqi bitumen is demonstrated in the following video:
---
---
Types of Iraqi Bitumen
There are two types of Iraqi bitumen, including SPOT Test Positive and SPOT Test Negative. They are very different in terms of quality.
If the vacuum bottom is extracted from heavy crude oil, the SPOT Test will be positive, which means the bitumen's sulfur amount is higher than the other types.
High sulfur means the bitumen will slightly burn during the melting process leading to unfavorable odor and low-quality pavement for highways.
SPOT Test Negative Iraqi bitumen is much like Prime bitumen, including Iran bitumen and Bahrain bitumen with the same quality. In terms of specific gravity, it is also the same as standard bitumen.
---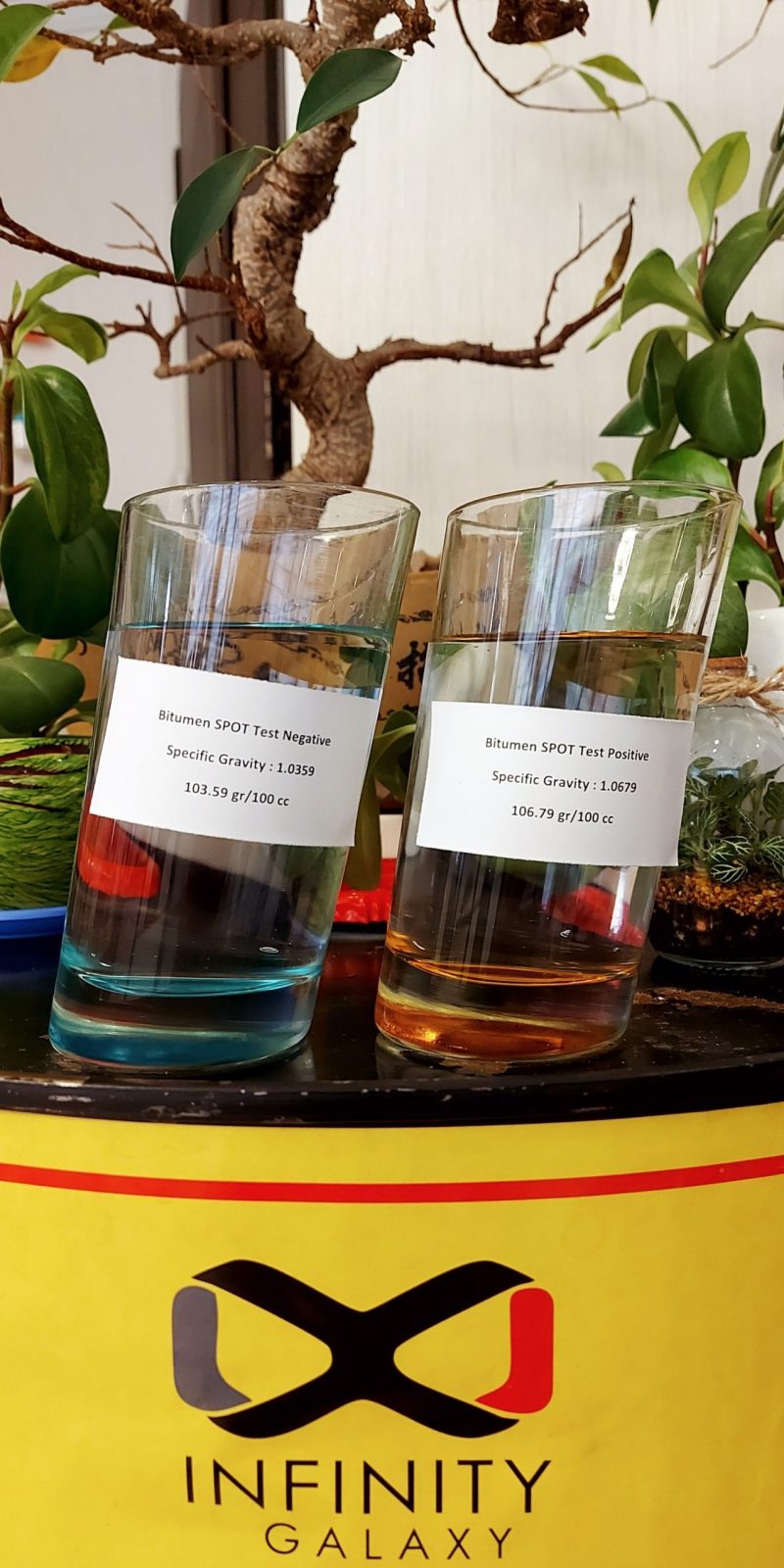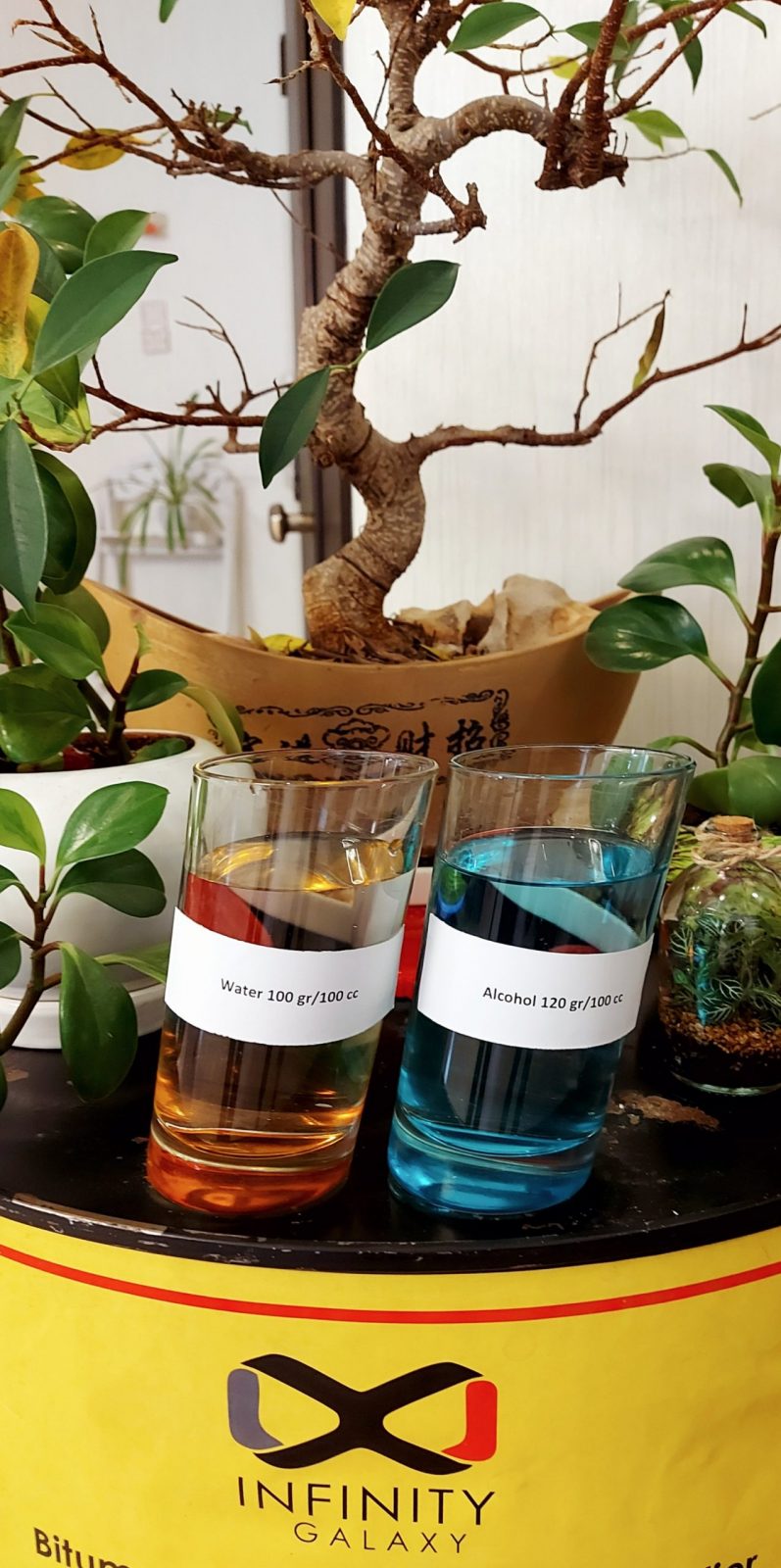 ---
Iraq vs. The Middle East
Rising foreign investments in Iraq's oil production sector indicates higher potential in the bitumen market, including the production of various bitumen packing such as New Steel Drum and Jumbo bag.
Are you seeking different types of bitumen packing? Click here.
Generally, Iraqi bitumen is not comparable to other bitumen in the Middle East, especially Iran.
The price of positive spot test bitumen is also lower than its rivals.
Due to the possibility of using heavy oil VR to produce Iraqi bitumen, you should seek an expert's opinion before any purchase.
We only recommend buying from international trading companies.

Inspection of Iraqi Bitumen
Infinity Galaxy prepares all the required export documents for Iraqi bitumen, including an inspection. Here you can see an Iraqi Bitumen inspection paper. The certificate illustrates the exact quality and quantity specifications.
Geo Chem Certificate of Quality and Quantity
According to this inspection, the net weight of each drum is 185.8 kg (the total net weight of 511,215 Kg for 2,750 drums).
The weight indicates Iraqi bitumen has higher specific gravity comparing to Prime bitumen.
Based on the next analysis result, the specific gravity is also 1.0712.
In the report, the SPOT Test is Positive, which shows the bitumen derived from heavy crude oil.
Crystal Bitumen
Crystal Bitumen is also the bottom residue of the vacuum distillation tower, and it is stiff and brittle.
The acceptable penetration ranges of Crystal Bitumen, based on ASTM D5, lay between 1 to 30.
The penetration range gets determined by the quality of the crude oil, which the bitumen derived from.
Crystal Bitumen has no elasticity, and according to the Test Method of ASTM D113, it is quite dry, and the Ductility is below 10 cm.
Crystal Bitumen also has a higher flash point than Iraqi bitumen and prime bitumen. Due to the brittleness of the crystal bitumen, the softening point is about three times more than the Prime bitumen, which shows it is not a soft product at all.
in the video below, you can see this bitumen in jumbo bags:
---
---
Price-wise, Crystal bitumen is cheaper than the Prime bitumen.
It has particular applications; and more economically efficient.
Solid and brittle Crystal bitumen packed in one-ton jumbo bags, is mostly used in China to improve the quality of Penetration bitumen.
You can read more about the eco-friendly and cost effective jumbo bag here.
Unlike Prime and Iraqi bitumen, Crystal bitumen does not require inspection during the export process.
For more information about the price of Crystal bitumen, please contact us.
---
Infinity Galaxy, Iraqi Bitumen Supplier
Infinity Galaxy as a company with the history of ten years tries to become a bitumen supplier with suitable  prices. If you tend to buy Iraqi bitumen just fill below form and our sales team will contact you ASAP.