Over 10 years of providing excellent quality bitumen in Africa, makes Infinity Galaxy a reliable business party. Additionally, we have a vast network of the best refineries in the Middle East, which enables us to provide customers with the best bitumen price in all seasons.
At Infinity Galaxy, we have partner refineries that produce bitumen in various grades. Therefore, we are capable to export popular grades of bitumen, such as AC-10, AC-20, AC-30, and AC-40 to Sudan.
If you are looking for the specification of different grades of AC bitumen, you can visit the Asphalt Cement page.
Sudan is a developing country and it is heading towards economic growth as fast as possible. Road construction is increasing especially in southern areas and the capital city, Khartoum. The main material in road construction is bitumen that can be used as a binder to bond the aggregates. This article details different types of bitumen that can be used in road construction.
Sudan is also trying to broaden its connection with other African countries. This means bitumen and asphalt demands are going to increase for constructions.
Bitumen CFR Price in Port Sudan
Port Sudan, the principal seaport of Sudan, handles the majority of the country's trade. Chief imports include crude oil, petroleum residues, machinery, and fuel oils. In 2018, the import value of bitumen, asphalt, and related products in Sudan reached about 11,079,797 US$.
Highly popular grades of bitumen in Sudan are the grades of AC-10, AC-20, AC-30, and AC-40. We provide our clients in Sudan with a variety of packaging, including new steel drums, jumbo bags, polybags, 40 kg bags, and bulk.
To know more about packaging click here.
Bitumen CFR Price in Sudan Port
AC Bitumen Price in Sudan
555± 5 USD-MT
For measuring the costs of importing bitumen to Sudan, please consider the costs of preparing specific documents such as the third-party inspection as well as CFR Sudan bitumen price.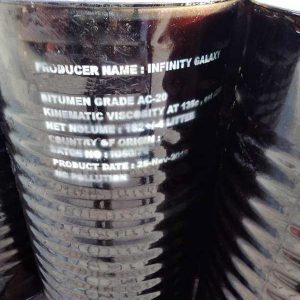 Our Bitumen in Sudan
Infinity Galaxy, the bitumen supplier, seeks to provide special offers for various types and grades of bitumen in Sudan. Therefore, we currently stand for quality and the best price of the Middle East bitumen in Sudan.
Many countries require particular standards or procedures for imports. Port Sudan's regulations necessitate the barrels of bitumen to have specific markings. These markings should contain producer name, importer name, net weight, kinematic viscosity, country of origin, batch number, and production date.
Please note that without markings, importers of bitumen may encounter problems in Sudan.
Inspections and Documents for Importing Bitumen in Sudan
Infinity Galaxy prepares all the required export documents for our clients in Sudan to ease the customs procedures and speed the process. We try to deliver inspection documents such as Geochem to buyers in Sudan as soon as possible.
A list of Export Documents Required in Sudan
Pro Forma Invoice (PI): This document shows that we have approved selling a certain amount of specific bitumen at the negotiated price to a client in Sudan. This document indicates the first approval of our deal.
Commercial Invoice (CI): CI is a crucial export document for customs clearance. The document clarifies the purchased products, their value, and shipping costs in detail.
A Sample of Commercial Invoice
Packing List: The Packing List identifies the exported items and the dimensions and weight of the packages. It is also one crucial document for customs clearance.
Certificate of Origin (CO): This document is needed for ensuring customs that the exported goods are eligible to be exported from the country of origin.
A Sample of Certificate of Origin
Original Bill of Lading (BL or BOL): This document includes most of the details about transportation, in particular, terms and conditions that have been agreed upon. BL is normally produced by a shipping agency.