Bitumen Supplier in Kenya
It's more than ten years that we in Infinity Galaxy, as a bitumen supplier, have a good partnership with traders and importers in Kenya.
During these years we have exported different types of bitumen including penetration grade 60/70, 80/100, MC-30, MC-70 and MC-250 to Kenya.
We provide all the necessary documents for our Kenyan customers to purchase their required bitumen safely.
You can read more about how to afford these grades of bitumen to meet your requirements below.
Bitumen price in Kenya
Basically, all grades of bitumen have a cost higher than the penetration grade 60/70.
But altogether, the price of penetration grade 60/70 and 80/100 is the same most of the time.
The bitumen penetration grade 60/70's price is the pricing base of other bitumen, which means that other grades of bitumen are priced according to the price of this type of bitumen.
On the other hand, for the production of cut back bitumen, we use petroleum-based solvents, like Kerosene, that are expensive.
Generally speaking, the price of this sort of bitumen is depending on the type of the solvent that is used in.
But commonly, the price of medium curing cut back bitumen is higher than ordinary bitumen.
To know more about the bitumen prices contact us.
In the table below, you can see the bitumen price in Mombasa.
---
Bitumen CFR Price in Mombasa
---
Pen80/100 Bitumen Price in Kenya
---
518 ± 5 USD-MT
---
Bitumen Price has been updated on 28th November 2021
Buy bitumen in Kenya
Importers should first get an Import Declaration Form (IDF) from the customs office.
After that, they should submit the form to us in Infinity Galaxy. We will send the completed form to SGS members in the loading port that are present during loading time.
After the necessary inspections, PVOC from SGS's authorities is sent directly to Kenya's customs and inspection office.
Finally, the importer can receive its product in Mombasa.
If you want to estimate the costs of importing bitumen into Kenya, you have to take into account the costs of preparing specific documents as well as the CFR Mombasa Kenya bitumen price.
 To know more about these documents you can contact us in Infinity Galaxy.
Our bitumen in Kenya
Each year, we partner with several traders and importers in Kenya.
For over a decade, we have offered our clients in this country special offers for various types and grades of bitumen.
Therefore, we currently stand for quality and the best bitumen price in Kenya. You can see our presence in Mombasa port in Kenya below.
Infinity Galaxy delivered 500 MT of Bitumen MC 30 to the port of Mombasa in Kenya. We provided our Kenyan client with bitumen MC30 in January 2020.
---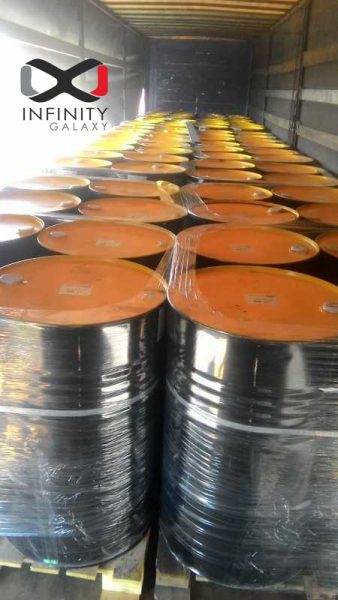 Loading of 1000 MT bitumen 80/100 to Mombasa, Kenya
The last shipment of 1,000 metric tons of Bitumen grade 80/100 and 100 metric tons of Bitumen MC30 from Infinity Galaxy was delivered to the customer in the Mombasa port of Kenya during the third week in July 2019.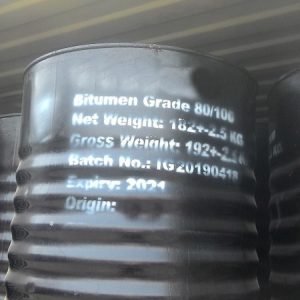 Loading MC30 bitumen to the destination port of Mombasa
In the video below, you can see the loading of bitumen for shipment to Kenya by the Infinity Galaxy team.
---
---
The entire procedures of GIS and PVOC for bitumen in Kenya were completed under the control and supervision of SGS inspectors.
Bitumen packing
All types of the bitumen penetration grades including bitumen 60/70 and 80/100 are available in new steel drums, jumbo bag and bulk.
MC cut back bitumen's packaging is barrel. Barrels are different from new steel drums in dimensions, thickness and color.
One of the most important issues related to imports of bitumen into Kenya is package marking.
When you import bitumen into Kenya, you have to pay attention to the marks of inspection on the packaging. Otherwise, the importer will be fined.
Below is a brief description of the bitumen grades that mentioned above.
Bitumen 60/70
The bitumen penetration grade 60/70 is used in insulation, paving and road construction in mild climate, because it is neither too hard nor too soft.
This kind of penetration grade bitumen is suitable for areas with heavy traffic. It is popular in South East African countries and India.
Bitumen 80/100
The primary use of Bitumen Penetration 80/100 is in road making and manufacturing of hot mix asphalt for base and surface course.
Since this bitumen is a soft bitumen, it can be appropriate for cold regions. This type of bitumen is widely used in African countries like Kenya and Tanzania.
Cut-Backs
When we mix the bitumen and a petroleum-based solvent, we make a cut-back bitumen.
Solvents can be used to reduce the viscosity of bitumen which increases the penetration of the bitumen on the surface.
There exists different types of cut back, including rapid curing (RC), Medium curing (MC) and slow curing (SC). The medium curing (MC) type of cut back bitumen is popular in Kenya.
MC-30
Generally, MC 30 is a mixture of 58% penetration grade 80/100 with 42% of kerosene.
This type of bitumen is used in protecting steel pipes, prime coats and cold mix asphalts in very low traffic roads in cold areas. 
MC-70
MC 70 is a combination of 36% kerosene and 64% bitumen penetration grade 70/100.
The main usage of this type of cut back is in road construction and maintenance, dust control and bitumen spraying.
MC-250
MC 250 consists of 26% kerosene and 74% bitumen penetration grade 80/100. Typically, this type of cut back bitumen is applied in waterproofing of surfaces, prime coat, tack coat, manufacturing of asphalt mixes in cold weather conditions and maintaining the roads.
One of the main differences between medium curing types of cut back is their kinematic viscosity.
You can find out more about other types of bitumen that can be used in road construction in the page of different types of bitumen in road layers.
The viscosity of MC 30 is in the range of 30 to 60 centistoke, the viscosity of MC 70 is in the range of 70 to 140 centistoke and the viscosity of MC 250 is in the range of 250 to 500 centistoke.
---
Infinity Galaxy, the bitumen supplier in Kenya
In Infinity Galaxy, we deliver your required bitumen on time to the destination port of Mombasa.
A quality control of the product is carried out before shipping and the inspection by international inspectors is carried out during loading onto the ship.
We ensure you that we will help you in all stages of your purchase to receive your product easily, without any problem.
So, if you have more questions about the bitumen you need and its purchase terms in Kenya, feel free to contact us or fill out the below inquiry form.