Oxidized (Blown) Bitumen 95/25  

                         
Oxidized bitumen R95/25 has a softening point of 95 and its penetration grade is 25. This type of bitumen is appropriate for mild to warm weather and it can play a good role in road construction in these weather condition.
Would you like to read about other types of bitumen that can be used in road construction? click on the application of different bitumen in road construction.
The production of oxidized (blown) bitumen 95/25
This type of bitumen is obtained by blowing air at temperatures ranging from 200 to 300 degrees Celsius into the reactor of the refinery in BBU or ABU and it has the oxidized bitumen CAS number of 64742-93-4.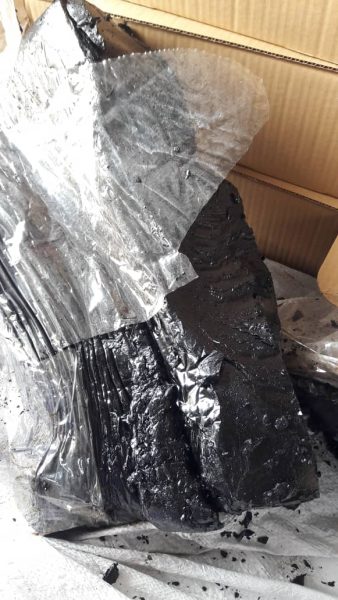 ---
Oxidized Bitumen 95/25 Application
This can be used for a wide range of applications.
For construction, paving, and road maintenance, this bitumen is a good choice. This solid bitumen also works well for building embankments and dams in hydropower projects.
It can be used as a main material for canal lining to avoid the water seepage. Other applications include roof coatings, bitumen membranes beneath shingles, carriage roofing compounds, and liquid roof coatings.
Bitumen mastic is an essential flooring material. It has acid and alkali resistance and can be used in a number of industries.
Coating pipelines with oxidized bitumen 95/25 can prevent corrosion and rust, so it can be a good selection in oil and gas industry.
This material is used in lithium-ion batteries and wires. It is used to seal junction boxes and is a good adhesive for laminated boards in electrical industry.
Oxidized Bitumen 95/25 Advantages
Besides being water-resistant, oxidized bitumen is extremely durable, flexible, and chemically stable.
Oxidized Bitumen 95/25 Specification
There are different standards test method, including: ASTM, DIN, AASHTO etc. Infinity Galaxy uses the standard test method of ASTM to obtain each property of oxidized bitumen 95/25:
Specification of Infinity Galaxy oxidized bitumen 95/25

Bitumen 95/25

Specification

Unit

Test method

Specific gravity @25/25 °C

1.05 approx.

(Kg/m3)

ASTM D70

Penetration @25 °C

20/30

mm/10

ASTM D5

Softening point °C

90/100

°C

ASTM D36

Loss on heating (wt) %

0.2 max

Wt. %

ASTM D6

Flashpoint °C

250 min

°C

ASTM D92

Solubility is CS2 (wt) %

99.5 max

Wt. %

ASTM D4

Spot test ∞

Negative

—

A.A.S.H.O.T 102
Oxidized Bitumen R95/25 Packing:
Oxidized bitumen 95/25 has various packing. Cartoon, palletized cartoons that can be wrapped with a nylon shrink, polyamide bags and polyesters are packing of this dry bitumen.
The page of oxidized bitumen packing can help you to get more details. 
---
Infinity Galaxy, Oxidized Bitumen 95/25 Supplier
Infinity Galaxy started its own activity in 2012 as an oxidized bitumen 95/25 supplier.
Our focus is on providing high-quality blown bitumen at the best price.
Our company exports this type of oxidized bitumen to more than 30 countries in the world. Our team can assist if oxidized bitumen 95/25 is required for your project.
If you have any questions about your order please fill out the form below. You can also contact us.