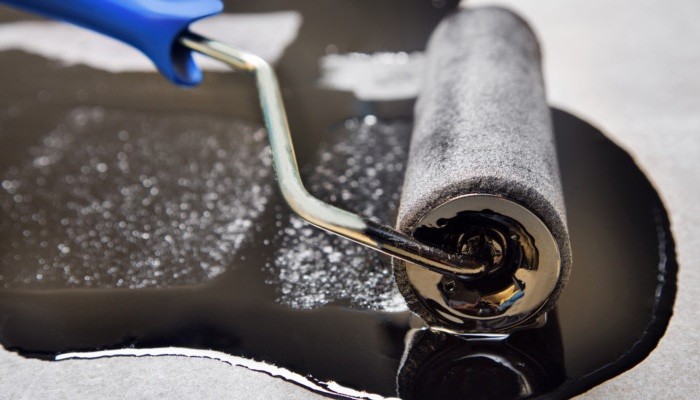 Create a Perfect Road Project with VG 30 Bitumen
Click for the Latest Price
VG 30 bitumen will deliver you more profits, only if you know the necessary steps to go through, before making a purchase.
This premium bitumen grade is easily mistaken by other bitumen grades, particularly bitumen penetration grade 60/70.
That's why we, at Infinity Galaxy, recommend all buyers of VG30 bitumen to get the results of tests on their bitumen drums before loading.
Another crucial step to buying a reliable VG30 is to check the delivery time.
Just because you purchased a high quality VG30 bitumen with the lowest possible price, does not mean your bitumen will be at your destination as you agreed.
A supplier that is confident about his long lasting relationship with shipping companies and has a reputation regarding on-time delivery is what you need.
These are just a number of steps that guarantee a successful purchase of VG30 bitumen from the Middle East.
To make sure that you have no challenge during your buying process, contact our sales experts at Infinity Galaxy.
Or continue reading our comprehensive guide on buying VG30 bitumen below.
Current Price of VG30 Bitumen
The price of bitumen different grades may vary depending on their method of production and quality of the feedstock.
In the production of VG30 bitumen, a high quality vacuum bottom is used, therefore, its price is a bit higher than other grades of bitumen, such as bitumen penetration grade 60/70.
Click here for the price of ordinary bitumen.
To make sure that our clients have a transparent estimation of their expenses, we provide them with VG30 bitumen price every two weeks.
Though these prices are approximate, due to fluctuations in the bitumen market, they help our clients to make better decisions.
Current VG 30 Bitumen Price
New Steel Drum - FOB
450-460 USD-MT
Updated on 25th October 2021
How to Make Sure a Bitumen is VG30 not 60/70?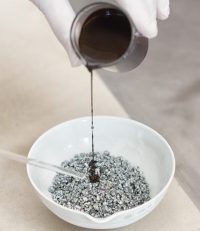 What are Steps to Buying VG30 Bitumen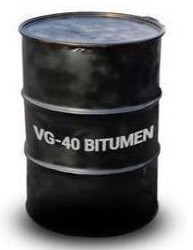 What are Payment Terms at Infinity Galaxy?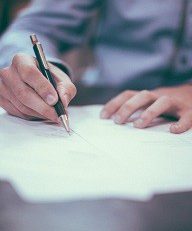 Which Trade Documents are Needed?
How to Make Sure a Bitumen is VG30, not 60/70?
At first glance, VG30 bitumen seems just like penetration grade 60/70; however, its physical properties, viscosity range, and performance is completely different.
From more than 40 refineries in the Middle East, only 10 of them have enough expertise to produce VG30 bitumen.
In many applications, particularly road construction, VG30 bitumen is proven to work more efficiently than pen grade bitumen 60/70 at various temperatures.
Read this comprehensive article about the advantages of VG bitumen.
VG30 bitumen can be recognized from bitumen penetration grade 60/70, only with reference to standardized test results.
To make sure that you are not buying bitumen 60/70 instead of VG30 bitumen, we recommend you to control the test results carefully and see if the absolute viscosity and penetration value of your bitumen is in range (VG 30's absolute viscosity should be 2400 poises and penetration value should be between 50 and 70).
Importing a high quality VG30 bitumen also requires a trustworthy supplier, who specially select bitumen refineries that are experts in the production of viscosity grade bitumen.
At Infinity Galaxy, we supply VG30 bitumen in the best possible way.
We not only control the test results of VG30 in refineries but also measure the properties of bitumen drums before loading.
In cooperation with SGS inspectors, we do an extremely careful sampling and testing of VG30 bitumen and send the results to our clients.
Steps to Buying VG30 Bitumen from Infinity Galaxy
An ideal VG30 buy is guaranteed by going through a few steps necessary for import and export.
The first step to buy VG30 bitumen is to do the price negotiation, agree on the quantity, and inform your supplier about the port of discharge.
Your purchase becomes official by taking the next step and prepare your letter of intent (LOI).
As you may know, LOI is the preliminary agreement between your company and Infinity Galaxy, which shows you are ready to go through the next steps.
For the next step, you need to wait for Infinity Galaxy to issue a pro forma invoice (PI) and send it to you.
Although the conditions of sale written in PI are changeable afterward, with it our buyers can get a fixed price of VG30 bitumen and estimate extra costs, including shipping.
After receiving the PI and finding the cost details, Infinity Galaxy will ask you to approve your purchase. In this stage, you are required to confirm PI by signing and stamping the document.
For those clients that agreed on paying the costs in advance, the next step would be to do the payment as negotiated with Infinity Galaxy.
Afterward, we would be in charge of purchasing your VG30 bitumen immediately and load the cargos from Jebel Ali Port within two weeks.
As a reliable VG30 bitumen supplier, we take care of all your concerns regarding shipping and delivery time.
We will also be responsible for issuing the documents that you need, including Commercial Invoice, Packing List, Container List, Certificate of Quality and Quantity, Certificate of Origin, and Original Bill of Lading.
In the next section, we will further explain the required documents for completing your VG30 buy.
What are Payment Terms at Infinity Galaxy?
By making our payment options as flexible as possible, we strive for meeting all the demands of traders and importers of bitumen. Below are two available payment methods for VG30 bitumen:
Full advanced Payment

T/T (30% as advanced payment, 70% as balance payment by the copy of customs clearance documents or BL draft)
Based on bitumen industry's best practices and our everyday experiences, advanced payment is most suitable for VG30 bitumen buyers. The conditions of this payment method are clear and concise enough to form the basis of a trustworthy agreement with Infinity Galaxy.
Infinity Galaxy's payment terms are negotiable, depending on the value and quantity of your order and the market falls and rises. Contact us to find our other offers.
Which Trade Documents Infinity Galaxy
Prepares for You?
We want everything to go according to your plan, therefore, we prepare all trade documents that you need for easy customs clearance.
To ensure that our clients experience no delays at customs and get timely delivery of VG30 bitumen, we efficiently provide them with the essential documents containing all the details they need.
Below is a list of documents you need to get from us along with your goods:
Pro Forma Invoice (PI): is an export document that shows the supplier's preliminary approval of selling a specific amount of a product with a specific price to a buyer.
Commercial Invoice (CI): is required for customs clearance. This document describes the purchased products, their value, and shipping costs in detail.
A Sample of Commercial Invoice
Packing List: to clear the customs and take delivery of goods, it is necessary to have the packing list. This document states the dimensions and weight of each package or container.
Certificate of Origin (CO): is another important trade document in which the exporter country and destination of exported goods are introduced. Certificate of origin is also required for customs to make sure that the goods were eligible to be exported and pass the border.
A Sample of Certificate of Origin
Certificate of Quality and Quantity (Inspection Certificate): is used in international trade to verify the quality and quantity of imported goods to a country. To issue an inspection certificate, we ask international inspectors to confirm the VG30 bitumen drums before shipping. This way we ensure our clients that we are shipping bitumen with the exact quality and quantity that they have ordered. For different types of inspections available at Infinity Galaxy click here.
A Sample of Inspection Certificate
Original Bill of Lading (BL or BOL): is a receipt issued by a shipping agency that shows a product with a specific quantity that has been shipped to a predetermined destination. This highly important document also contains enough information about the terms and conditions of transportation.
How do we promise an On-time Delivery of VG30?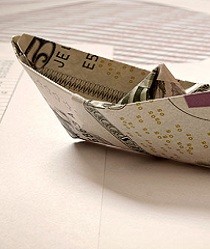 What Packaging Choices are Available for VG 30?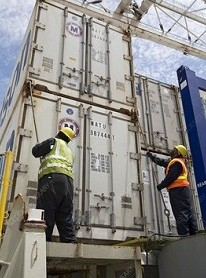 Three Reasons to Buy VG30 Bitumen from Infinity Galaxy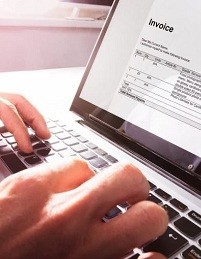 How Do We Promise an On-time Delivery of VG30 Bitumen?
To have the best performance in the delivery of VG30 bitumen to our clients, we count on our strong, long-term relationship with both refineries and shipping agencies in the region.
We understand our clients' concerns about meeting their deadlines, as a result, we try our best to minimize delivery issues.
Thanks to our trusted partners in refineries, we can load more than 500 tonnes of VG30 bitumen every week.
As a reliable supplier of VG30 bitumen, we have also developed a good relationship with shipping agencies, which enables us to consider the conditions and limitations of various destinations and estimate the realistic transit time.
In doing so, we are proud to announce that 80% of our clients have been satisfied with the delivery time.
What Packaging Choices are Available
for VG 30 Bitumen?
Safe packaging of VG 30 bitumen is one of our first priorities at Infinity Galaxy.
In order to minimize the risk of contamination in your purchased bitumen, we offer high quality packaging choices that are aligned with market standards.
Besides, we control all VG 30 bitumen containers strictly to detect any problems in packaging before shipping.
We also give our clients the advantage of choosing among a wide variety of packaging types available for VG 30 bitumen, including different Steel Drums, Jumbo Bags, Poly Cubes, and Bitutainers.
Bulk bitumen is also available in tankers ranging in size between 1,000 and 8,000 metric tons.
To read more about packing, click here.
For those traders that require a specific marking on bitumen drums, Infinity Galaxy will put a complete and correct marking on all bitumen drums.
Three Reasons to Buy VG30 Bitumen
from Infinity Galaxy
First of all, Infinity Galaxy is a company formed by experts that have a long and rich experience in the field of bitumen trading.
Based on our people's efforts for meeting the demands of bitumen traders and importers, we have extended our export destinations to more than 30 countries in less than 10 years.
In order to continue to perform well in a competitive bitumen market, we have to stay committed to providing VG 30 bitumen buyers with the best quality.
Secondly, we want to expand our business and for this, we prioritize continuous partnership over a one-time purchase.
By providing our clients with premium quality VG 30 bitumen and best available price, we make sure that they get a unique trading experience and continue their cooperation with Infinity Galaxy, which is great.
Finally, purchasing high quality and pure bitumen is sometimes complicated, especially VG 30 bitumen that creates great value for both traders and local authorities.
That's why we offer a comprehensive consultation service to our clients, to make sure they are fully aware of the technical specifications of each product before making a purchase.
To help our clients make better decisions and save more money, we can also tell them when the right time for buying bitumen is.